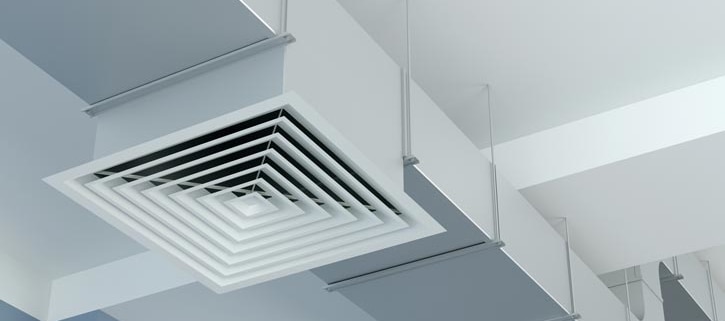 7 Ways to Reduce Cooling Costs in Commercial Buildings
Keeping employees, customers and guests comfortable when the weather outside is stifling is a primary concern for companies looking to maximize foot traffic at their location.
Unfortunately, the costs of cooling an industrial building can be steep, with company profits being significantly undermined in buildings that have not made energy efficiency a priority.
The good news is that with the public consciousness regarding climate change, a number of energy-reducing building materials and best practices are available. These best practices help property owners not only minimize their carbon footprints, but save significantly on cooling costs as well.
Here we've come up with 7 Ways to Reduce Cooling Costs in Commercial Buildings. Most, if not all these tips relate to improving air-conditioning efficiency, something both building owners and homeowners are aware of especially during the summer.
1. Install an Energy-Efficient HVAC System
The first place to start when cutting cooling costs is with the HVAC system itself. If your commercial system is more than 15 years old, it is probably time for a replacement, as it is likely to start leaking and degrading to the point that the cost of repairs to fix the system are greater than the cost of getting a new system.
Are you a homeowner and have been wondering if your furnace should be replaced? Check out these signs that it might be time to replace your heating system.
When investing in a new system, make sure that it has a favorable rating in terms of energy efficiency, and make sure that the system is properly installed with an Energy Star certified HVAC installation.
It is also important to get the right size HVAC system for your building or home. Units that are too large will leave the building too humid, while undersized systems will have to work overtime to maintain the desired temperature.
If you have a newer HVAC system and are comfortable with its size and energy efficiency rating, have the system regularly serviced by a professional. An HVAC technician will ensure that all ducts are sealed, filters are replaced and vents are clear of obstructions.
2. Regulate Air Flow
For commercial purposes, the investment in custom dampers can be an outstanding means of optimizing your HVAC system and controlling cooling costs. These devices offer an advanced filtration system that uses adjustable blades to control airflow from one side of the damper to the other.
While there are a multitude of damper options that may best suit your building's needs, for commercial spaces, a backdraft damper is generally an excellent choice for controlling cooling costs.
A backdraft damper allows for the automatic airflow in only one direction while preventing reverse flow back through the unit. This will prevent cool air from flowing back toward the HVAC system and lower the amount of energy required to get the cool air to its intended destination.
3. Invest in Insulation
Within the building and construction industry, the general evidence supports that well-insulated structures are capable of reducing energy output by up to 10 percent. In commercial spaces, 10 percent can add up to significant cash, especially when looked at from a year-over-year perspective.
If you are building or adding to your commercial space, strongly consider insulated concrete forms (ICF) for your framing.
There are a multitude of benefits that come with ICF construction that relate directly to decreased cooling costs. These advantages include elite air and moisture barriers and maximum thermal capacity, allowing for a stable interior temperature that does not fluctuate with outdoor weather patterns.
If your building is already constructed and/or implementing ICF framing is not feasible in your current situation, you can add some polyiso insulation to prevent cool air from escaping through the roof.
Polyiso foam panels are among the most highly sustainable and widely used roofing products in the industry. Quality Mark certified, these insulation boards meet or exceed all industry standards for airflow control and energy efficiency.
4. Keep Windows and Doors Well Sealed
Small cracks in door and window sealing can lead to a significant flow of air into and out of your building or home. As a result, your HVAC system runs more, leading to poor energy efficiency and elevated cooling costs–factors exacerbated in the extreme heat of summer.
There are a number of indicators that your building is not well sealed: drafts coming from closed windows and doors; noticeable gaps around any window or door framing; or insects, dust and moisture accumulating around your doors or windows.
Any of these are likely indicative of a poorly sealed structure, driving up cooling costs, especially in the summer. Consider having a professional blower door test conducted to indicate how airtight the building is and if it is properly sealed.
5. Understand Your Building's Orientation
The direction a building faces has a direct impact on the costs required to cool it, as the sun will provide varying levels of warmth to different parts of a building.
It is important to consider trees and other buildings or structures that may provide shade for your building, but, in general, the south side of a building will get more sun than the north side. Therefore, if your main work and meeting spaces are on the south-facing side of the building, they will be warmer in the winter–but they may also get unbearably hot in the summer and require additional air conditioning to make them tolerable.
Furthermore, rooms that open to the west will receive direct sunlight in the evening and, combined with the heat generated throughout the day, will scorch during the summer. So if you have any after-hours functions, it would be a good idea to avoid rooms that open to the west if you want to limit running the AC.
Sometimes, though, you must play with the hand you're dealt with regarding your building's orientation and cannot build to take advantage of the sun. If this is the case, look into awnings, drapes and blinds that can be installed to keep the building looking professional while also providing shade. This type of shading will limit the need to run the AC as much.
6. Take Advantage of Renewable Energy Sources
While the use of carbon-generated fuel sources is unlikely to disappear completely in the near future, exciting advancements in alternative energy have made renewable energy sources more viable for both residential and commercial consumers.
The most common renewable energy source is solar energy, with photovoltaic (PV) cells installed on a building's roof used to capture sunlight and convert it to electricity. The benefits of installing solar panels outweigh the negatives. PV panels are becoming more stylish and less cumbersome as technology has improved and as more users are adopting them. They are an excellent means of reducing cooling costs, as the use of a natural energy source reduces the need to draw from non-renewable sources.
The most significant barrier to adopting solar energy, outside of possible aesthetic considerations, is the cost of initial investment, However, solar panels can be leased for free, including installation, through a Power Purchase Arrangement, or bought outright, in which the cost is often recouped in saved electric costs and tax breaks after a few years.
7. Close Curtains and Blinds at Right Time
Another way to help control energy efficiency and reduce cooling costs is to close curtains and blinds when there is direct sunlight shining through. This will help reduce unwanted solar gain and improve comfort in the home or office. If your building does not have curtains or blinds, make sure to have them installed at all windows.  Shutting them at closing time will also prevent the setting sun from warming your building when it is not in use.
Keeping tenants and visitors comfortable in hot exterior conditions is a primary concern for commercial building managers. However, as HVAC bills can get extensive for such large spaces, every effort should be taken to find ways to help reduce cooling costs. By using any combination of the seven ways listed above, commercial buildings can go a long way toward keeping costs under control. (Most of the above strategies apply to homes as well).
Matt Lee is the owner of the Innovative Building Materials blog and a content writer for the building materials industry. He is focused on helping fellow homeowners, contractors and architects discover materials and methods of construction that save money, improve energy efficiency and increase property value.