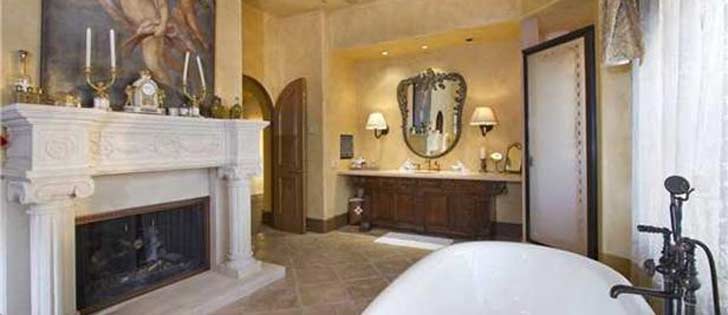 Top 10 Celebrity Bathrooms You Wished You Owned
The bathroom, for most of us, typically includes a bath tub, toilet and wash basin with maybe some space for storage. Have you ever seen a bathroom that has luxurious amenities like a fireplace and hot tub? Do you know how country style bathrooms are furnished? This is exactly what we want to show you in this article. Do you know how country style bathrooms are furnished? This is exactly what we want to show you in this article. Below is our list of  Top 10 Celebrity Bathrooms You Wished You Owned that overshadow conventional bathrooms with their sheer opulence and space. We hope these celebrity bathrooms provide inspiration for your own bathroom remodel project. Or if you're just looking for bath decorating ideas, you may find some here!
1. Dennis Quaid's French style bathroom
Dennis Quaid's country style estate in California has a master bathroom that has French limestone and butter-colored walls, giving a warm and inviting feel to this spacious bathroom. A console sink and a huge soaking tub add a touch of class to this celebrity bathroom.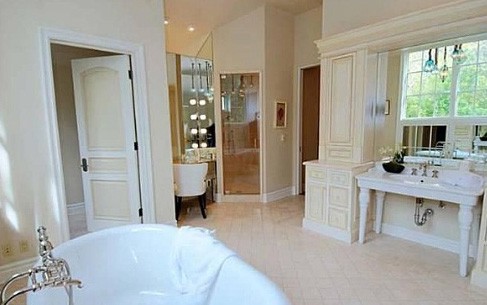 2. Ryan Phillipe's Asian bathroom
The master bathroom in actor Ryan Phillipe's L.A. home is inspired from East Asian culture. This ample bathroom is based on Zen principles and has grass and cloth based wallpaper and Shoji screen doors. The bathroom has a wall-mounted flat screen television, soaking tub and top- of- the-line showers to offer a relaxing experience, thereby making it one of the most unique celebrity bathroom designs you'll see today.
3. Donatella Versace's Lavish Bathroom
Donatella's bathroom in Milan is lavish and opulent with a bronze statue of a declining Buddha, vaulted ceiling and a mirrored wall that reflects all this opulence. The center piece is a large circular tub that provides the ultimate relaxation for users.
4. Suzanne Somer's Romantic bathroom
Suzanne Somers's master bathroom is opulent and romantic with sand-paper ceilings and flagstone floors. It comes with a soaking tub, steam shower and even a lounging room where one can relax and unwind. This bathroom design is the perfect inspiration for your romantic bathroom renovation and decorating ideas. To see more photos of Suzanne Somers's master bath, visit the To da loos blog.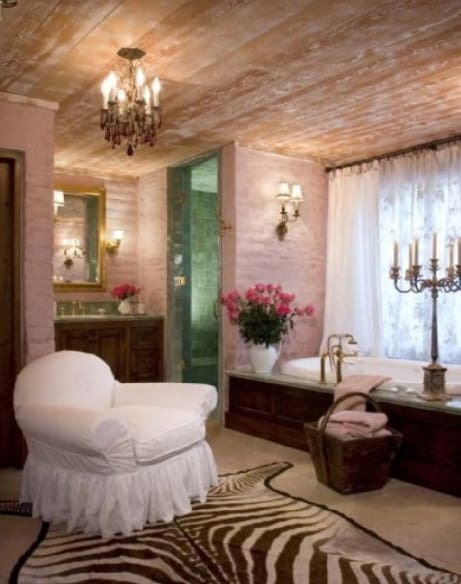 5.  Julianne Moore's floor-sized bathroom
Actress Julianne Moore has converted the third floor of her townhouse into a bathroom that comes with a soaking tub and double vanity. The bathroom walls are a soothing white and the entire bathroom design is rectangular with straight lines to give a clean and elegant look.
6. Christina Aguilera's personalized bathroom
The celebrity bathroom of Christina Aguilera's Beverly Hills home has a free standing tub, a Moroccan side table, fireplace and tons of candles and figurines. It even has a designer rug with the face sketch of Christina on it to give her a personalized bathing experience.
7. Joey Lawrence's Spanish bathroom
Joey Lawrence's Spanish-style home in California has a bright and large bathroom that features spacious vanities, steam shower, jet spa and a dry sauna. The entire bathroom design has beautiful white tiles and rustic wooden beams to make this celebrity bathroom an inviting place to relax. Also, this country style bathroom opens into a deck that offers stunning views of the estate.
8. Former Sonny Bono's tropical bathroom
This dreamy tropical bathroom of the former Sonny Bono's California house opens into a secluded patio surrounded by a tropical landscape. The interiors of this bathroom are huge with stone floors and pastel wall shades, making it the right design for an indoor tropical retreat. This design is sure to get your bathroom remodel juices flowing!
9. Jenny Craig's classic bathroom
Jenny Craig's Rancho Santa Fe home features a master bath with classic old-world style and includes a fireplace, high ceiling, stone floors, textured walls and Italian Renaissance paintings. A soaking tub and separate showers make it one of the most luxurious places to have a bath
10. Phil Mickelson's opulent bathroom
Professional golfer Phil Mickelson's bathroom has an intricate and stunning design that includes  a curved glass enclosure and custom mosaics to provide a one-of-a-kind bathing experience. The Calcutta marble, sterling-silver fixtures and Baccarat crystals add a touch of class to this celebrity bathroom.
These luxurious and enticing celebrity bathrooms are sure to make you want to have a long soak in them. Which of these is your favorite? Which bathroom design has inspired your next bathroom renovation or given you some decorating ideas?