Tankless (On Demand) Water Heaters: 4 Pros and 4 Cons
In 2018 alone, just over 8.7 million residential water heaters were shipped into the United States, which amounts to roughly one water heater for every 37 people. This high demand is not surprising, as everybody needs heated water for numerous tasks, such as taking showers and washing dishes.
One of the most popular types of water heaters is a tankless (also called on-demand) water heater, which heats water on an as-needed basis. However, when considering the purchase of a tankless water heater, it's important to first analyze its positive and negative aspects. Fortunately, we've done some of the homework for you. Read on for our list of the 4 Pros and 4 Cons of Tankless Water Heaters.
Pro #1: Longer life expectancy
Tankless water heaters are becoming more popular, and the benefits they provide may be the reason why. One of the most tangible benefits of a tankless water heater is its longevity. According to the U.S. Department of Energy, most tankless water heaters have a life expectancy of about 20 years, which is nearly double that of traditional tank water heaters, which only last 10  to 15 years.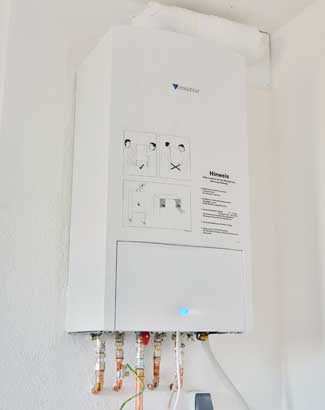 Pro #2 More energy efficient
Aside from their high life expectancy, tankless water heaters are also much more energy efficient than traditional water heaters, as they use roughly 30 to 50 percent less energy than their counterparts. Tank-based water heaters, for example, store preheated water for when it is needed,  and continue to reheat the water throughout the day, resulting in higher energy use. Tankless water heaters, on the other hand, use a heating element or burner to heat the water on demand as it passes through the unit.
As a result, tankless water heaters are capable of supplying a nearly endless supply of hot water, while saving households over $100 a year on average on their utility bill. When considering their 20-year lifespan, this amounts to a savings of roughly $2,000 over this time period.
Replacing a traditional water heater with an on-demand unit is only one of several ways to make a home or business more energy efficient.
Pro # 3: Never run out of hot water
Tankless water heaters don't depend on storage, and if they're sized and installed properly, you can take as many showers as you want back to back without running out of hot water. They have a powerful heating element or burner that heats the cold water on demand as the water passes through the heater.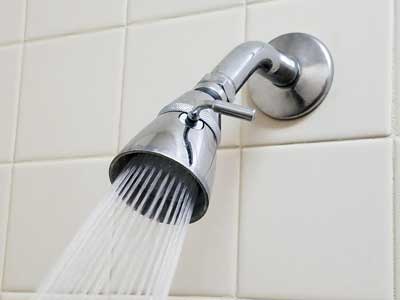 Pro #4: Save space
Tankless water heats are much smaller than other water heaters, which save space. Traditional tank water heaters, for example, can be upwards of 6 feet tall, while tankless water heaters are only 2 to 3 feet tall and are usually mounted on a wall. In smaller homes, this extra space could be a welcome benefit.
The pros above may have already convinced you that a tankless water heater is the route to go. Despite the many positive features of tankless water heaters, they're not without their disadvantages. Before making that final decision, it would be wise to also look at the cons.
Con # 1: Initial cost is more than most traditional water heaters.
Although tankless water heaters provide households with numerous benefits, drawbacks such as initial cost make buyers hesitant to purchase one. Including the installation price, most tankless water heaters cost between $1,000 to $3,000. This is considerably more than the $700 to $2,000 price for most tank-based water heaters.
Con #2: Installation is more complex.
Tankless water heaters require more gas or electric power than tank type water heaters. They save energy by operating only when there is demand for hot water. This results in larger gas pipes and larger electric circuits. For a new building design, this may not be a problem. However, for an existing building with established gas pipes and electrical circuits, infrastructure renovations are sometimes needed  to accommodate the additional power requirements.
Con #3: Needs to be sized properly according to household needs.
To have enough hot water to run the dishwasher, for example, while taking a shower or even multiple people taking a shower at once, the tankless unit must be sized properly. A plumbing expert will figure out the flow rate and temperature rise to determine the proper size and design based on your needs.
Con #4: Won't supply hot water during power outages.
Buyers need to be aware that tankless water heaters don't provide hot water during power outages. Because tankless water heaters require power to operate and don't store any heated water, if the electricity goes out, so does the supply of hot water.
Buyers in states such as Texas, Louisiana and California should keep this factor in mind, as according to Stacker.com, Texas and Louisiana experienced the most and second most power outages in 2021, at 66 and 19 power outages, respectively. California came in third with 15 power outages in 2021.
Is a tankless water heater worth it?
Every household needs heated water, and tankless water heaters are one of the most popular types of water heaters available to consumers. This is due to their 20-year life expectancy, energy efficiency, endless hot water supply and compact size. However, buyers must also be aware that tankless water heaters are much more expensive than other water heaters, are more challenging to install, need to be sized properly and do not operate during power outages.
Every homeowner's situation and intentions are different. While your main intent may be to see a return on your investment, another's may be to save the planet with less energy usage or simply to enjoy an endless supply of hot water.
We hope this list of the pros and cons of tankless water heaters is useful, especially if you're looking to purchase a new water heater. If we left out any pros or cons, let us know in the comments section below. And, if you're ever in need of any plumbing expert witness services, keep Ivey Engineering in mind.