6 Ways to Make a Building (or Home) More Energy Efficient
Many buildings constructed prior to 1973 were not energy efficient and relied on non-renewable energy sources, such as petroleum, natural gas and coal. However, a group of 12 oil-rich countries created the Organization of the Petroleum Exporting Countries (OPEC), which enacted a limit on the quantity of petroleum that other non-producing countries could purchase. Eventually,  OPEC terminated the embargo, but for years after the regulation was created, non-petroleum producing countries had to adapt their lifestyles to function with less dependence on fossil fuels. As a result, the need for energy-efficient structures blossomed, and improved ways of construction came about, all designed to conserve energy.
When it comes to energy consumption, the goal for any building owner or even homeowner is to save money while still conserving energy. From the simple, economical ways to the more complex and expensive, here are 6 Ways to Make a Building (or Home) More Energy Efficient.
1. Improve the Building's Insulation
Typically, there is a correlation between a building's energy efficiency and its insulation. According to energystar.gov, thoroughly insulating floors, walls and ceilings can help save up to 10 percent on total annual energy costs of a building. With a higher grade insulation, a building will not have to run heating and cooling systems as frequently, which saves energy. If a building is not sealed properly, air leaks will affect the indoor climate, forcing the HVAC systems to run more, which wastes both energy and money.
2. Use Energy-Efficient Lighting
Another way to conserve building energy is to use energy-efficient lighting on both the inside and outside of a building. Incandescent light bulbs can be replaced with fluorescent bulbs, which, according to Environmental Encyclopedia, use at least 75 percent less energy than incandescent bulbs, and they often last 20 times longer. Changing something as simple as a few light bulbs can make a difference. Also, since fluorescent bulbs tend to last longer than incandescent bulbs, they don't need to be replaced as often. An even better option are LED light bulbs and fixtures, which are more energy efficient and last up to five times longer than florescent bulbs. LEDs  also operate much cooler, which for some commercial buildings can reduce the building's cooling load.
3. Utilize a More Efficient Cooling/Heating Equipment
If a building or home's heating and cooling equipment is more than 10 years old, needs frequent repairs and energy bills continue to increase, then it may be time to upgrade to something more efficient. Proper sizing and installation are key elements to determine HVAC efficiency.
If, for example, the A/C unit installed is too large for the building, it will not adequately remove humidity. And too small of a unit will not be able to maintain a comfortable temperature on the hottest days. Even if your heating or cooling equipment is only 10 years old, you can still save 20 to 40 percent of energy costs by replacing it with a newer, more efficient model.
Also, if you still have a traditional tank-based water heater, consider switching it out for a tankless water heater. These more efficient water heaters use roughly 30 to 50 percent less energy than traditional ones.
4. Use a Strategic Building Facade Design
Aside from proper insulation, a more strategic design of the building façade can have a dramatic effect on energy consumption. For example, a building constructed with windows facing the sun uses natural heating in colder climates. (If you don't want the additional heat from the sun, say in the summer, fixed and movable awnings are a great option to shade windows.) A building built partially underground utilizes the natural cooling in warmer weather and insulation in colder weather.
5. Focus on Renewable Energy Sources
Prior to the creation of technology that allows energy to be harvested from nature, fossil fuels, such as coal, natural gas, and oil, were used as fuel. Fossil fuels are still used a substantial amount. About 74 percent of the world's energy needs come from fossil fuels. Unfortunately, the burning of fossil fuels depletes natural resources and can harm the environment. To avoid this issue, renewable energy sources are employed because they produce relatively little waste and are freely available for years to come.
Advancements in technology include the use of solar cells, a form of renewable energy that is commonly used on solar panels. Solar cells convert the sun's energy into a useable form of renewable energy. Since the sun is used for energy, the need for non-renewable energy sources decreases, allowing buildings to be more efficient.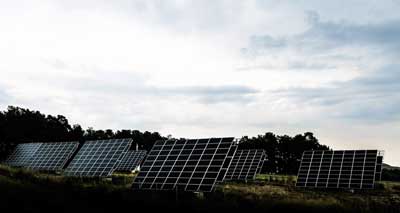 6. Implement Cogeneration Systems
Cogeneration systems are used to increase the energy efficiency of large facilities such as hospitals, resorts and industrial plants. Waste heat is recovered from onsite electric generators and used for space heating and domestic water heating, thus the term, cogeneration. The use of waste heat from an industrial process can also be used, which prevents energy from being wasted and thus increases the energy efficiency of the plant.
Even if you only start out with the more simple tips, such as swapping out old incandescent light bulbs with LEDs or upgrading insulation, these small changes can still make a difference with a building's energy efficiency. Implementing these six strategies above not only helps save building owners money, but they're also a smart move in sustaining the environment and preserving our natural resources.
Which of these six strategies can you implement to make your home or office building more energy efficient?
Coincidentally, we came up with a list of the top energy efficiency buildings in the United States that get high marks for sustainability and innovation.
If you're ever in need of an energy efficiency expert, give Ivey Engineering a call today.